Our recent Cottage & Restoration project completed and looking fantastic in the April sunshine.
A 1960's cottage with a complete new roof chimney and deep retrofit completed along with substantial extension attached to the rear has transformed this cottage into a modern living and A2 rated luxury home.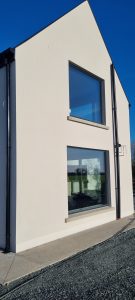 The Rationel aluclad tripple glazed windows and doors finish this building to a high standard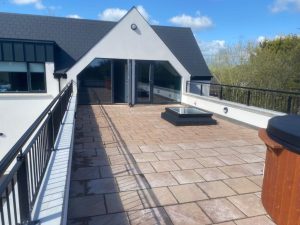 The bespoke steel balcony with log fired hot tub has given a touch of luxury on the terraced area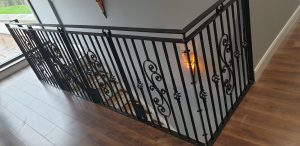 The bespoke ornimental balustrade finishes off the staircase at first floor level
Wood panelling in the bathrooms add a touch of class to this beautifully finished interior
The Cottage renovation was restored to maintain its character but also brought up to meet
building regulations
News this week on Grants to refurbish vacant or derelict properties – The new rates which will apply are €50,000 for a vacant property of two years, while the enhanced grant will now rise to €70,000 for properties which are derelict or certified as requiring structural works" see link below.
https://www.finegael.ie/expanded-vacant-property-refurbishment-grant-will-help-bring-more-derelict-properties-back-into-use-cummins/
https://www.instagram.com/carry_construction/?next=%2F
https://carryconstruction.ie/wp-content/uploads/2023/02/Building-Ireland-Magazine_compressed.pdf
https://www.google.com/maps/place/Carry+Construction/@53.722193,-6.951883,15z/data=!4m5!3m4!1s0x0:0x7f7d9ee3afc39ff7!8m2!3d53.722193!4d-6.951883
meath.ie/…/adaptation-grants-for-private-home-owners
meath.ie/…ormation-for-businesses/funding
dublincity.ie/…-my-home/grants-homeowners
https://cif.ie/association/irish-home-builders-association-ihba/ 
https://hes.seai.ie/GrantProcess/ContractorSearch.aspx    (Sustainable Energy Authority of Ireland)
https://www.goldenpages.ie/carry-construction-kells/
https://www.nationalguild.ie/craftsmen/carry-construction-ltd.9637.html
https://www.constructionireland.ie/c/680546/carry-construction
https://www.finegael.ie/expanded-vacant-property-refurbishment-grant-will-help-bring-more-derelict-properties-back-into-use-cummins/